Special Services and Amenities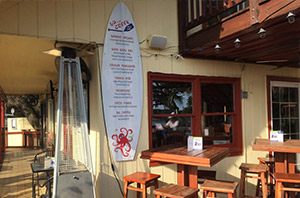 Conveniently located in the center of Hilton Head Island, everything is nearby. From the many, many restaurants and retailers to the extensive tourist attractions and excursions, our trained staff can point you in the right direction.

Our own Up the Creek Pub & Grill offers magnificent views while you enjoy great food and drinks in a lively atmosphere. The Marina store provides an array of sundries and boat maintenance supplies as well as snacks, sandwiches and beverages including fine wines and beers.
SERVICES FOR THE VESSEL:
Mechanical shop with ASE certified mechanics on duty who can complete any engine or on board system repair on site for all gas powered vessels.

Body shop offering comprehensive vessel repairs from bottom painting and gel coating to fiberglass repair as well as detailing, brite work, hull buffs or our superwash and prestart service
Fuel (both gas and diesel, always competitively priced with volume discounts available)
Pump out service
Electricity (30/50amps - $5.00/day)
Storm Storage Program
SERVICES FOR THE SAILOR:
Up the Creek Pub & Grill
Marina Store
Water (included)
WIFI Internet
Laundry Facilities
Restroom and Shower Facilities
Dock Carts
Dock Boxes
BBQ and Picnic Areas shaded by Live Oaks
Ample Parking